London headquarters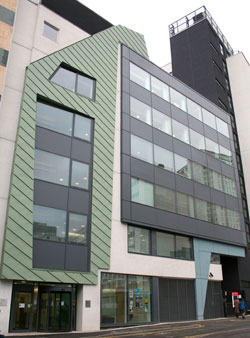 New Prospect House
8 Leake Street
London
SE1 7NN
T 0300 600 1878 (MCC)
T 020 7902 6600 (Reception)
F 020 7902 6667
E enquiries@prospect.org.uk - this is a referral centre for general enquiries and it can take some time for your message to be passed onto the appropriate department. Only use this if you can't find a more specific address on our main contact page.
If you know the individual person you want to contact at Prospect, our e-mail addresses follow the format firstname.surname@prospect.org.uk
View Prospect HQ in a larger map
Arriving by public transport
Train
New Prospect House is just a few minutes' walk from Waterloo mainline station. Turn left after exiting the ticket gates, and look for Exit 6 at the far end of the concourse. As you leave the station and start to cross a pedestrian bridge, turn right down a flight of stairs. This brings you out on York Road; turn left, walk along a parade of shops and cafes, and Leake Street is the first turning on the left. Exits 1, 2 and 3 have step-free access. For more information download Network Rail's map of the station facilities.
Tube
Waterloo underground station (Bakerloo, Northern and Jubilee lines) is just a few minutes' walk from New Prospect House. Westminster station (Circle, District and Jubilee lines) is less than a ten-minute walk across Westminster Bridge.
Bus
Bus routes 76, 77, 211, 341, 381 and 507 stop on York Road, just around the corner from our office in Leake Street. There are many other routes serving the wider Waterloo area - see www.quickmap.com/movie1wat.htm
River
London Eye Millennium pier has boat services to and from Bankside, London Bridge, Tower Bridge, Canary Wharf, Greenwich, the O2 centre and Woolwich.
Festival pier (near the South Bank centre) has a hop-on, hop-off circular service to Bankside, London Bridge City, St. Katharine's, Westminster and Embankment.
Cycle facilities
There is a bike rack in our car park, but this is a shared space and we advise you to use good quality locks.
Car
We have a small car park with two parking bays for disabled users only. There is an underground commercial car park in Leake Street run by Universal Parking, telephone 020 7234 9399.
Further information
Transport for London has a comprehensive online journey planner: see www.tfl.gov.uk/journeyplanner.