What can an eBranch do for you?
Prospect's free eSite system gives your branch or section its own website, with no need to worry about set-up, design or hosting. All you need is internet access and a web browser.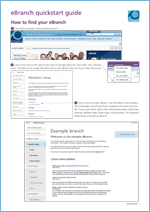 Your starting point is a home page which can only be seen by members of your branch or section. At its most basic it should give your members information about your branch or section, and include a named contact if they have any queries.
You can create up to ten other members-only pages, and can use any or all of 6 other modules:
upload documents
publish brief news updates
send mass emails to all your reps or members without the need to maintain your own distribution lists
host a members-only discussion forum
view online lists of your members, recent leavers and recent joiners (see below for info about who can access the lists)
create up to ten 'public' web pages for recruitment or campaign purposes.
When your members log into the Prospect site they automatically get access to your eSite.
Some branch officers – secretary, assistant secretary, M&R secretary, organiser, chair/president/convenor and vice-chair – automatically get full admin rights to the eBranch. You can nominate other reps as ebranch administrators, which enables them to manage your content.
Access to the online membership lists and mass email is only available to branch/section officers; sections can only access their own section lists.
Your full-time officer, organiser and/or other Prospect staff in your negotiating team automatically get admin rights.
Please note that this system doesn't extend down to sub-section level.
Contact web@prospect.org.uk for further information.
FIND OUT MORE: Log in now (top right of browser) to download the user guides below, get access to a demo eBranch, and see full details of how to apply.