Prospect LGBT Network
Who can join our LGBT+ network?
All Prospect members are welcome to join the LGBT+ network by emailing rainbow@prospect.org.uk or logging into your 'activities' page.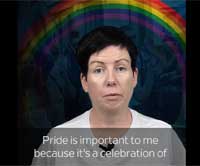 Watch our short video in which 2 Prospect members explain why marching for LGBT equality is important not just for them, but for everyone.
News updates
There are no news stories available
What does the network do?
Prospect is actively engaged in moving the LGBT+ agenda by:
being involved in Pride events locally and nationally to show our strength and support
sending a delegation to the TUC LGBT+ conference to vote on issues which the TUC will then take forward
having a Prospect member sit on the TUC LGBT+ Committee
campaigning for improved pension and legal equalities.
How the network can help
We want the network to be a living entity which deals with the issues our LGBT+ members face at work. To do this effectively, we need to know what those issues are.
In your own workplace we can:
help you set up a local LGBT+ network
provide training to help educate our reps and members – we are currently planning  a bespoke LGBT+ beginners rep course
give you access to Prospect experts who can help you with any issues.
What you can do
One of the network's key aims is to showcase what Prospect can do to help move our members' LGBT+ agenda forward. To make the changes we want to see in the workplace and in wider society, Prospect has to be visible and active, as do our representatives and members. You can help by:
encouraging friends and colleagues to get involved in Prospect activities 
encouraging non-members to join Prospect
talking to your branch about events they can run.
Why equalities matter
It is a basic human right to work in an environment free from harassment and discrimination. No-one falls into simply one 'box' or group. We are all part of a variety of groups which shape and form us. We work together to solve our issues.
Prospect is committed to equality for all members irrespective of sex, marital status, ethnic origin, disability, sexuality, gender identity, age, religion or belief, whether in the workplace or the union.
We believe that all workplaces and society generally, will benefit from an inclusive environment. We work with members, representatives and employers to improve workplace policies and cultures. Prospect LGBT+ is committed to:
securing equal opportunities policies which include sexual orientation and gender identity
ensuring that workplace procedures dealing with discrimination and harassment cover sexual orientation and gender identity
ensuring that employment benefits and agreements, such as pensions and family leave arrangements include same sex couples
supporting lesbians, gay men, bisexuals and trans people in the workplace and in the union.
To see Prospect's other networks visit our networks page.
If you're already a member of the network you automatically get access to additional content when you're logged in
---
The views expressed on this site are not necessarily the views of Prospect nationally.