Jonathan Shelley
Fisheries, biodiversity and geomorphology team leader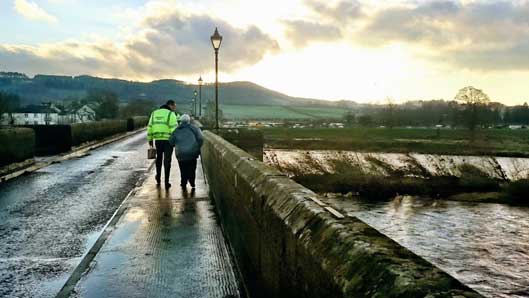 Jonathan wears two hats at work. His job title is fisheries, biodiversity and geomorphology team leader based in Newcastle.
But he is also one of the agency's dedicated flood support ambassadors and during the December storms, as soon as news of likely flooding hit, he was on the River Tyne at Corbridge in Northumberland gathering data about the nature and extent of the flood.
"In common with everyone in EA, incident response is our top priority so when we are in that mode people across a whole range of functions down tools to contribute."
It is a role that he describes as "extremely rewarding because you are able to help people at a difficult time. It might be simply listening to members of the public and giving them the opportunity to share their experiences.
"We check if people are registered with our floodline service on the internet or by phone, and whether they received timely warnings. We also direct them to other sources of help, such as their local authority.
"People can ask questions and also provide us with information about the timing, location and depth of flood water, which develops our understanding and helps us refine and improve our flood forecasting models to inform future responses.
"Sometimes, it is a small, practical things we can do to help. We helped an elderly lady (see pic) who had been flooded in Corbridge to the shops.
"She really appreciated our help, and several people stopped to thank us for going the extra mile. It's all about doing your bit to help affected communities."
While the engineers and flood specialists who are deployed to an incident are vital, Jonathan is keen to highlight the support they require from other specialists. That's why, he says, building contingency programmes into the agency's work is important to identify the projects which can be put on hold temporarily to release staff.
"It does affect the day job but we make sure that happens in a way that has been assessed in advance. Being a national organisation means we can rely on the practical and technical support from areas not flooded to backfill so that our key priority work continues unaffected."
Jonathan's key priority work includes making sure that any new flood defences are built in a way that enhances biodiversity as well as delivering flood protection.
"We have flood and rainfall models that can anticipate days in advance where flooding might be likely. River gauges show us in real time how the river levels are changing so can predict what future rainfall is likely. Monitoring surface water flooding is also important to refine and calibrate our models.
"Flood defences are only ever built to a certain standard of protection, so when a bigger event is forecast we rely on the warning service to provide the last line of defence, so people can move possessions upstairs and take other precautions to lesson the impact if flooding does occur in their home."
On a normal day however it is Jonathan's team that makes sure that there is a good supply of fish in the rivers, greater biodiversity, and that activities such as sewage and industrial effluent discharge are regulated and planning applications are assessed for any detrimental impact.
"The geomorphology aspect of the job is about the structure and function of rivers and estuaries, making sure there are pools, riffles and glides, as in nature and that there is a natural supply of sediment."
The rivers in the North-east tend to be very fast, eroding the river bed and moving pebbles and cobbles in the lower sections. This provides a clean, well oxygenated environment in which salmon and sea trout can spawn.
Which is just as well because agency hatcheries in the region are responsible for rearing up to half a million salmon per year to stock the river Tyne and make up for the loss in salmon production connected with the construction of the Kielder reservoir.
They also work to protect endangered species, such as freshwater pearl mussels, and make sure any planned developments will not disturb other river creatures such as otters and water voles.
"Whether we are designing and installing fish passes over weirs and bridges to allow the fish access their natural habitat, creating new habitats by removing culverts where they have been built over, or planting trees on riverbanks to stop erosion from grazing sheep and cattle, there is a lot to think about."
In fact the list is endless.