Work together for change
Working with your line manager, colleagues or even your Prospect rep can be useful when working towards change.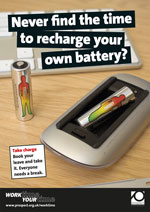 If you are consistently working long hours you may want to raise the issue with your line manager. Talk to colleagues – sometimes a team may be able to come up with a workable solution.
Approach your line manager
Always start with an informal request – but you'll still need to prepare.Think through your objectives just as you would for a business case, so you can demonstrate how the business' needs can be balanced with your own.
Remember the range of flexible working options will vary by employer – if you need to know more about the options in your workplace contact your branch in the first instance. For example, time off in lieu (TOIL) may be available in some employers whereas overtime may be payable in other areas.
Further information and access to additional materials and support may be available from your employer. For example, there may be information, advice and guidance on their intranet – your local branch should have the details.
Putting a case together
To prepare a case you must decide on the most appropriate approach.
For general workload issues the best tactics are either to take a team case, or to enlist your colleagues' support in advance. Consider using someone else as a sounding board to test your case – a union representative will help in confidence.
Summary of tips for success
Do...
try to offer solutions not problems
prepare
practise (with colleagues, friends, partners or your union rep first)
listen carefully to any issues that are raised so you can try and deal with them
be flexible
offer to do a trial
wherever possible, raise the issue jointly with colleagues
tackle the issue, not the person
speak clearly and firmly
say what you want
be firm not rude
be positive, but not aggressive
show that you have listened
watch your body language
maintain eye contact
speak slowly – it's less aggressive
use the 'broken record' technique.
Don't...
slouch
point or shout
apologise (unless you are sorry)
make excuses.
Like any campaign, visibility and progress reports are essential to your campaign's profile, member support and success.Organise! It's the key to success.