Time off in lieu
Your flexible work time account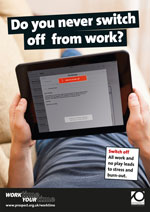 Many managers and professionals are covered by time off in lieu arrangements (TOIL). TOIL can work well for employers and employees giving employers resource in the peak times while allowing people to manage their own attendance and take time off when it works for them.
It is one of the best examples of genuine two-way flexibility. With no fixed start or finish times the flexibility provided by your work time account (TOIL) can help you cope with times when you need to come in late or leave early for whatever reason.
Individual employer agreements will vary but most arrangements have the following elements:
Individuals keep a record of the hours they work and can take time off to cover any additional hours. Time is often recorded in a diary. We have developed a spreadsheet you can use here.
Individuals agree when the time off is taken with their line manager.
If necessary additional time can be added to an individual's holiday entitlement.
In some instances special provisions may be made for out of hours/call out attendances or attendances on a Sunday.
Contact your branch for the details of any specific agreements that may apply in your area.