Making bigger changes
You might want to make some more significant changes to your working pattern.
Here's good practice information on a range of alternative working options.
Compressed hours
The reorganisation of normal working time into longer but fewer days. For example, a four-day week or nine-day fortnight is achieved by starting work early and/or finishing late, thereby building up additional hours which can be used to take a half-day or a full day off from work.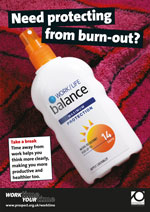 Advantages of compressed hours include:
Staffing services outside typical office hours.
Saving travel costs and time.
Providing workers with opportunities to better balance their work lives with family, external learning or rest.
Providing workers with longer weekends.
Disadvantages include:
Risk of fatigue (and making mistakes) from longer working hours.
Long hours can make stress and ill health more likely.
Home based working
Employees are home-based when their employment takes place largely or exclusively in, or from, their own homes rather than in a conventional office setting.
It should, in principle, be a voluntary arrangement and, as such, is largely individual, although trade unions are frequently involved in generating framework agreements which facilitate, and set down key principles for, home-based working.
Term-time working
Term time working is an arrangement where an employee works in term time only and agrees to take some or all of their leave in the school holidays. In effect people working term time only have agreed to have a period of unpaid leave every year. Pay is pro-rated on that basis but still paid on a monthly basis. Leave is also pro-rated and there is usually an arrangement whereby some or all leave must be taken over the school holiday periods.
In some circumstances people may not need time off over the whole of the school holidays or this may not be suitable for the employer. In these circumstances it may still be possible to have an agreed number of unpaid weeks every year to help cover the school holidays.In most cases this will be a temporary arrangement while children are at school and needing holiday care.
Annual hours
Annual hours is the name given to the system whereby employees are contracted to work a certain number of hours per year, while the actual hours worked each week may vary. There may be some positive flexibilities for workers, but the overall bias is heavily in favour of the employer. Therefore, careful negotiations on proposals for an annual hours scheme are advised in order to ensure that necessary safeguards built into the scheme.
Part-time work
Part time working offers flexibility for working parents and carers to balance work and family life. It may also enable employees to take up community volunteering for example or undertake training and education.
Many employers are increasingly recognising the benefits of part-time work amongst higher grade staff rather than the historical focus on lower grade jobs. Protection for part-time workers is outlined in Prospect Members' Guide 16 on part-time and flexible working, but it is worth highlighting that part-time workers are entitled to:
pro rata terms and conditions
pro rata benefits
the same opportunities for training, development and promotion as full-time workers which should also fit in with their hours and location
the same selection criteria for redundancy as full-time staff
A trial period can be very helpful to show how part time working can work. It can also be helpful to include a review allowing the employee to revert to full-time working at a later date.
Job sharing
Job sharing involves two people sharing one full-time post voluntarily. The responsibilities of the post, the hours, pay and benefits are shared. But there are several points you should consider when agreeing a job sharing arrangement.
V time working
'Voluntary reduced working time' is where less money is paid, pro rata to hours worked. V-time arrangements are usually for a specified (fixed) period of time, typically six months or one year.
With no loss of benefits and the right to return to full-time hours, it enables employees to manage caring or other commitments, particularly unforeseen situations. Organisations benefit because they retain their employee and the prospects of a return to full-time working.
Self rostering
Self rostering, or self managing, allows employees – typically members of a team – to schedule their working day to meet the requirements of service delivery.
Many organisations which have allowed teams to do self rostering have found that it can address issues of staff demoralisation while reducing pressure on, and freeing up time for, managers to concentrate on service development, for example.
In allowing staff to build their working hours around their domestic commitments, organisations have found that absence levels are reduced and retention improved.
The advantages of self rostering for employees include:
increased control over the scheduling and organisation of their own work
greater flexibility to meet commitments outside work.
Each member of the team should state their preferred working hours and also identify the hours they do not want to work. They also have control on overseeing the draft roster, identifying any mismatches between available staff and the hours which must be covered and agreeing between them on a final roster.
Career breaks or sabbaticals
Career breaks are periods of unpaid leave, usually between six months and five years. They are generally associated with raising young children but can also be used for caring for other dependants or for study purposes. Career break schemes allow workers to take time out of employment to take care of their responsibilities and return to work with no loss of status.