Work with Prospect
"I would like to meet Prospect members in the workplace or my surgery to learn more about the Prospect pledge campaign"
About Prospect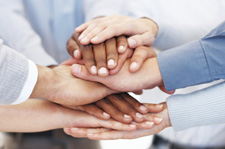 Prospect members are engineers, scientists, managers and specialists in areas as diverse as agriculture, defence, energy, environment, heritage, shipbuilding, telecoms and transport. We are the largest union in the UK representing professional engineers.
Most of our members hold degrees; many have second degrees and doctorates. Although many are employed in the public sector, we now have a majority of members in the private sector.
Prospect is not affiliated to any political party and it is fair to say the voting intentions of our members are very varied. It would also be fair to say that our members are as representative of the 'squeezed middle' in society as you will find in a trade union.
Working together
The Prospect pledge is our union's way of reaching out to politicians across the political divide to engage on some of the key issues affecting our members.
At a practical level, this pledge is about developing the bond between constituents and local representatives.
For politicians who sign up to this pledge, we will do one or more of the following:
arrange a workplace visit to learn about the roles Prospect members undertake
organise a delegation to an advisory surgery to talk about the Prospect pledge campaign
host a meeting at one of the union's offices to meet staff and explain how the union works.