Responsible procurement
"I believe in responsible procurement – when awarding public contracts government should consider the number of apprenticeships and graduate traineeships that are created and the quality of working relationships"
What is responsible procurement?
There are many strands to a responsible procurement policy, which means ensuring that social, environmental and/or ethical concerns are taken into account when making purchasing decisions.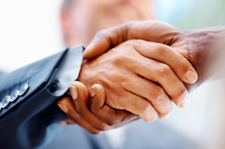 The government spends tens of billions of pounds procuring goods and services each year. But does it ensure that successful bidders operate sustainably and have good working relationships with their staff? Does it know how many apprentices or graduate trainees are recruited or developed by its contractors? These issues are part of a truly responsible approach to procurement.
Yet its knowledge of the number of apprentices it recruits, let alone those created through procurement, is sketchy – likewise for graduate trainees. We know from our members' experience that much more could be done to ensure successful bidders for government contracts develop good working relationships with their staff and operate on a sustainable basis.
Creating quality apprenticeships and traineeships
The government is right to say that new jobs have been created, but tells us little about the quality of work they provide. Around one million young people are out of work. According to the Chartered Institute for Personnel and Development, a further million people are employed on zero hours contracts – though this seriously underestimates the scale of insecure and under-employment across the economy.
Since June 2010, 77% of net job creation has been in industries where the average wage is less than £7.95 an hour, and real wages have fallen in 38 of the 39 months since David Cameron became Prime Minister.
Poorly paid, part-time, unskilled and untrained jobs do not chart a pathway to aspirational growth. Secure, mid-range jobs are becoming scarcer and the New Economics Foundation worries that this trend may be systemic.
Over the last 20 years the outsourcing of skilled jobs, like those in engineering and manufacturing, has escalated, including many professional and managerial roles.
The privatisation of large organisations in energy, telecoms and other sectors has inevitably led to a focus on shareholder value. All the main political parties accept that there has been a lack of focus on apprenticeships for far too long. But government responses to Parliamentary Questions have left Prospect alarmed at the poor record-keeping about apprentices recruited to government departments and their contractors.
Now is the time for us to focus on creating lifelong skilled jobs through modern apprenticeships and graduate traineeships.
The National Infrastructure Plan, published in October 2010, acknowledges the urgent need for massive government expenditure on infrastructure projects. The Treasury's 2012 infrastructure pipeline update included 550 projects worth over £310 billion. Major programmes include highways, rail, nuclear, offshore wind and broadband. If these projects are delivered, a significant proportion will be paid for directly by taxpayers or financially underpinned, for example through economic regulation.
Such investment in infrastructure is a necessity. The run-up to a general election provides a golden opportunity to influence how the money is used. This is the ideal time to press for good, sustainable employment, training and skills development as part of the government's procurement strategy. Commitments must not only be secured, but also need to be enshrined contractually and rigorously enforced.
Quality working relationships
A fairer workplace can also help to drive a more competitive economy. In January 2012 a TUC report showed that the presence of unions in workplaces could be saving employers in the private and public sectors as much as £701m a year.
Unions help to improve the skills of the workforce, provide a safer workplace with fewer accidents, and play a key role in de-escalating disputes with employers.
Public procurement could and should be used more effectively to support opportunities for innovative research and development; investment in high quality training and skills; and a decent working environment.
The Welsh government has already taken the welcome step of excluding companies that have blacklisted workers from public contracts. In major infrastructure projects, extending this leverage to the supply chain and using it to mainstream environmental targets would have a significant impact.
Where now?
Prospect has set up a working group to look in to the issue of good work in a modern society. We identified the need for more responsible procurement practices from government when it awards major contracts from public money. This is in part borne out of our members' experience in QinetiQ, the defence research company, which has multi-million pound government contracts and recently decided to derecognise Prospect and other unions from its workplaces without discussion.
Prospect welcomes commitments by political parties to tackle youth unemployment by creating more apprenticeships. At a time when there are plans to create a huge number of new government contracts to deliver infrastructure projects, we cannot miss the opportunity to tie in a strong commitment to the recruitment of apprentices as part of the procurement process.
There needs to be a similar focus on graduates. The lifeblood of the main sectors represented by Prospect – energy, science and telecoms – is dependent on graduate trainees. Yet nearly 10% of graduates are unemployed six months after their graduation. More must be done to match graduate skills to the jobs market and provide the appropriate traineeships so they can take on these professional roles.
Finally, when trade unions are being put under greater pressure and often labelled as an unfair burden to the workplace, it is important to ensure this debate is couched in fact and not fiction. In our members' experience a harmonious workplace is a more productive workplace. Prospect and other unions are part of the solution, not the problem. By putting quality workplace relationships at the heart of government procurement policy we believe we can help to improve productivity for employers and the quality of life for employees.