Linda Ndebueze and Mavis Amadi
In 2014 Linda was an operational planner and Mavis was a project controls engineer at Babcock International Group's facilities in Rosyth, Scotland. Linda joined Babcock in February 2013 to work on the BP Quad 204 offshore redevelopment project, which is manufacturing 70 subsea structures for BP. Mavis joined in 2012 and works on a project to assemble the first Queen Elizabeth Class (QEC) Aircraft Carriers. Babcock is the UK's leading engineering support services organization. The international company employs over 26,000 people across different sectors.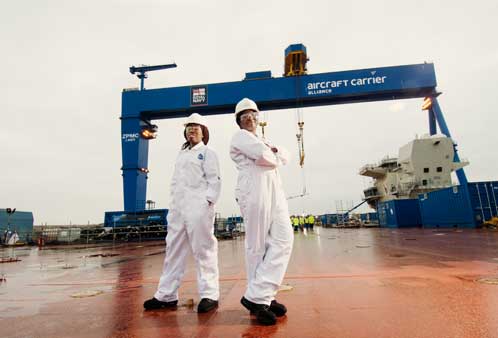 I've always been a very analytical and results-oriented person. I plan how to solve a problem by being proactive in my thinking. I actually enjoy more complicated and challenging things and that's what triggered the passion for project management.
Linda
"I am from Nigeria originally, where I got my first degree in linguistics. I came over to the UK in September 2010 for a master's degree in project management and afterwards worked in Aberdeen for a year before moving to Babcock as an operational planner in 2013.
"I've always been a very analytical and results-oriented person. I plan how to solve a problem by being proactive in my thinking. Family members and friends often request assistance in planning various projects and big important events! I actually enjoy more complicated and challenging things, so that's what triggered the passion for project management.
"A normal day involves having to prepare and send out different reports showing how the project is performing, responding to any issues and then having fun in what I do. Because working and having fun is really important to me, I love what I do. In a couple of years I hope to become a project manager.
"I was aware that it was male dominated environment when I started. But I love the challenge. This has been my driving force so the fact that there are fewer women than men doesn't really bother me. When I moved into my new office, we were just 3 ladies! It's not an issue for me, because I always believe that what men can do, women can do 2 times better.
"I think my dad focused me by giving me challenging responsibilities. As a child, he made me believe in myself and that I can achieve anything. I think it inspired me because I got into university at a very tender age and he is always so proud of me. He made me believe I could do more than I felt I could.
"I feel it is very important to be a role model. My friends and family members always look to me for advice in their career growth.
"To get more women into this industry, I would say it's more about having the courage, facing up to the challenge and making them understand that they can do it. Because I think what scares most ladies is that they feel they can't handle the family life and the career together, which is totally untrue. You could do both at the same time. I don't have a family yet but hopefully soon. And I don't intend to quit my job for a family."
Mavis
"My first degree was in polymer engineering (chemical). I graduated in 2006 and worked with Michelin Nigeria Limited as a process engineer for two years. I then decided to study my master's degree in project management in Aberdeen.
"Most of the time my job entails spotting where the problems are in a project, where the issues are and where the job is not being done on time. I love challenges, ever since I was a child. I like to try out things and when big tasks come I don't get scared, I think 'let's go for it' and see what I can get out of that.
"I found working here very challenging and very interesting. I learn a lot from the guys, they are really wonderful. I have had a fabulous experience working in a team of men on site. The other beautiful part is how they tease me, since a healthy relationship exists within the team. But no one has teased me just because I'm a woman.
"I've worked across three teams in Babcock, and I've been the only female in them. The first team meeting I had was a bit daunting. But just a few weeks later we all got along so well and the relationship was good; I really feel that they are listening to me.
"If a woman has to be in a manly industry like this, you have to be bold and need to be sure of what you're doing. You don't need to be timid; you really need to be an outspoken person.
"Women see things more in detail. That's what I feel. The guys just want to do the job and just want to get it done. But women are detailed and very analytical. We read up on issues and we need to be sure of the things before we present it.
"Since I was a child I have been analytical in my approach to life, and I love numbers. My dad, who is a petroleum engineer, inspired that part of me from early on. I was always with my dad, and when it was time to go to university I knew I had to be an engineer. He really encouraged me. My husband, a mechanical engineer, also taught me a lot. He would say 'if you see something you're not sure of, shout - don't just sit there.'
"I think most women just want to be women. My friends would say to me to leave all this for my husband. Some women just think that way. I find that strange myself, because in an environment like this, I think if there would be more women in this industry, I feel women would do better, they would contribute with different viewpoints. It's not all about engineering but I think women should be more active in places like this.
"I want to be a good role model to my children. When they see their mum and dad doing well in this area, the options are open to them as well. I can also encourage them to try and take up the challenge."
Linda has since become a project scheduler at Babcock