Dany Cotton
In 2014 Dany was an assistant commissioner with the Fire Service. She had worked for the London fire brigade for 26 years, beginning her career as a firefighter at the age of 18 and becoming an Assistant Commissioner in 2011. She was also head of Operational Assurance and the highest-ranking female in the UK Fire Brigade.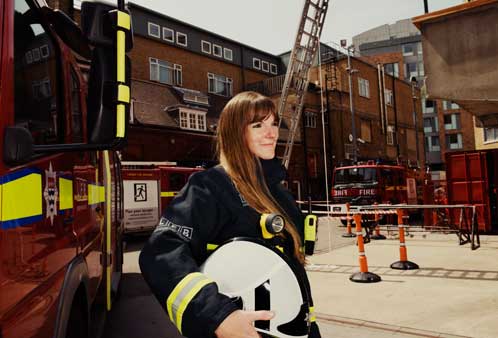 Three months after I completed my training in 1988, I attended the Clapham train crash where 31 people lost their lives. The guys I trained with saw me in the newspapers after Clapham and I think they became more respectful after that. These experiences are bonding.
"I originally wanted to be a police officer, but a lot of people don't like the police and I couldn't do a job where people don't like me. In 1987 I saw an advert for the London fire brigade encouraging applications from women and black and minority ethnic groups. Everyone thought I wouldn't be able to do it and that it was not a job for a woman, but this just spurred me on.
"When I arrived at my first post in Wimbledon the officer in charge told me on day 1 that he didn't agree with women being in the fire service. 3 men on the watch had already been put into transfer because they didn't want to work with a woman (a watch is a team of firefighters - a naval term often used in the fire service as it traditionally employed ex-navy personnel).
"Women were discouraged from speaking to each other in the service – the men thought we would conspire against them. They were very suspicious of me when I joined, they thought women were there to spy on them and get them into trouble. It was very odd.
"As the only woman I felt I was being judged the whole time. I didn't want to make any mistakes. I felt like I was working twice as hard as the others because I wanted to prove them wrong. Very early on the Fire Brigades Union formed a women's group and I found a lot of support in this.
"3 months after I completed my training in 1988 I attended the Clapham train crash where 31 people lost their lives. The guys I trained with saw me in the newspapers after Clapham and I think they became more respectful after that. These experiences are bonding.
"If a firefighter dies, the tragedy of that is really difficult to deal with, we feel it across the country. You spend a lot of time with the people you work with and go through a lot together. Silliness and banter help to build a team and help you get through stressful times.
"In August last year I was in charge of 40 fire engines when a recycling plant in Dagenham caught fire on the day of the Olympics closing ceremony. Another famous fire I attended was on the Cutty Sark. I work a lot of hours, 5 days a week and every other weekend, and I am also on 24hr call 3-4 nights out of 7.
"Automatic fire alarms are the main reason we get called out and there is usually no fire. We also regularly get called to people stuck in lifts. People often turn up at fire stations with things stuck on their body because they know we have all the cutting equipment.
"We used to automatically go out to every 999 call we received, often from people locked out of their homes, but our operators now have a filtering system in place. One of the most challenging parts of the job is dealing with hoax 999 calls.
"Attitudes towards women in the service have changed hugely. Women have been fire fighters in London for 30 years now. Since I started 26 years ago I have worked my way up the ranks and am now an Assistant Commissioner. I manage ground operations across the whole of London, making decisions about how many fire engines we need and what tactics we use. There are two ranks above me but I don't have any plans for promotion at the moment, the further up you get the more political it becomes.
"I am also head of Operational Assurance, where I manage a team that investigates major incidents. We try to keep people as safe as possible within the parameters of doing dangerous stuff. The bit I love about my job now is that I am of a high enough rank to make decisions and make a difference and I still get to go out on a shout.
"There is still a perception that women cannot be firefighters. Sometimes when I say I work for the fire service people ask me if I answer the phone. Some women think it would be too physically demanding and they would not be able to cope with the heights and small spaces, blood and dead people.
"We do a lot of targeted advertising to encourage women into the service. We go to places like women's rugby clubs because this job attracts people who are team players, are physically fit and don't mind being dirty. These are the attributes we are looking for, but this is a hard job to get into: last time we ran a recruitment round we had 10,000 applicants for 50 posts. At the moment we are working around a £29 million budget cut which could potentially result in the closure and sell-off of some fire stations.
"I love my job; I think it is the best job in the world. No day is the same and I don't think you can ever have a better feeling than saving someone's life. If you are a firefighter and something big happens you want to be there. Putting on the uniform puts you in a different psyche, you are there to do a job and you are there to help people. You are stepping in where everyone else is running away."
In 2017 Dany was appointed as Commissioner of the London Fire Brigade, the first woman to hold this role.