Rosyth Team
Gary Best, Catherine Brown, David Linton & Patrick McKee

Babcock International at Rosyth Dockyard

Making a difference - it's more than just the pay rise!

What is your union role?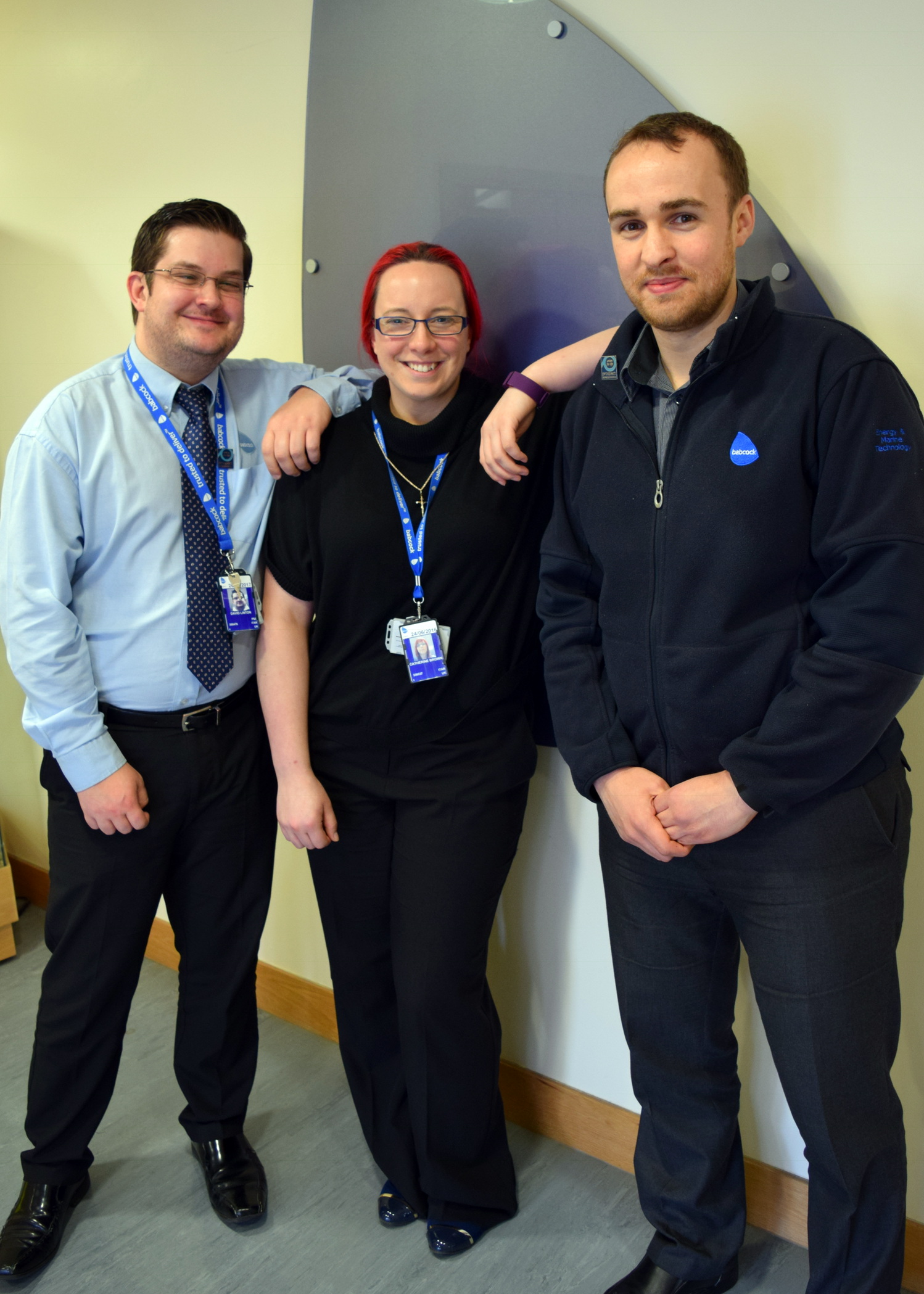 We are part of the branch's executive committee. Gary is the assistant secretary, Catherine is health & safety rep, David the vice chair, and Patrick the vice secretary.
What is your 'day' job?
Gary – engineer, Catherine – assistant project manager, David - engineer/naval architect, and Patrick - Dockside service manager
How long have you been in Prospect?
We range from Catherine at nine months to David at 10 years.
Why did you first become a rep?
Gary - I had previously witnessed people being victimised and not have a sufficient voice. I felt this was because they were younger workers and they believed that raising their concerns would put a black mark upon them. Due to this I became a rep and actively engage with younger members and any concerns they may have.
Catherine - To help people through difficult times and to ensure they are kept informed and feel that their opinion matters.
David - To help my friends and colleagues who kept getting told 'no' by our employer. We all felt like no one was listening to us and I went to the union to see what I could do to change this.
Patrick - I had been a rep in my previous job and continued it when I joined Prospect. I wanted to represent members who are not confident enough to speak up for themselves.
Can you tell us about one (or more) of your most memorable personal case success?
Gary - Unfortunately this series of personal cases does not have a positive outcome but it reminds me of how easily people can become victims of specific situations without realising. With advancements of technology it is easier for companies to keep track of all activity carried out on company computers within working hours. I was involved in a particularly difficult case where members were dismissed for misusing technology. Although these cases weren't successful, or particularly pleasing part to be of, it showed how easy it is to become caught up in the world of technology and how easily it can be traced when in the workplace.
David - I became a rep to get more clarity for engineers within the business. My most memorable success is that the business now has a documented plan and agreed method on how engineers can progress and grow within the business, compared to what appeared to be an ad-hoc approach to this previously.
Patrick – I represented a group of members who I believed were underpaid for the duties they were carrying out. After months of negotiations they were awarded a significant raise in their salary.
What is the most recent personal case to come your way?
Gary - A member asked for advice after he failed a drugs test at work.
David - Someone was subject to disciplinary action due to the amount of time off due to illness. This was not the first time this had happened, within the allotted time. This resulted in an increase in the disciplinary level. The evidence gathered highlighted the individual had done all they could to limit the amount of time they were off. This allowed the discussion to be had and the disciplinary wasn't escalated on this occasion.
Patrick - One of our members was disciplined for a serious breach of health & safety
How many grievance and disciplinary cases have you dealt with in the last year?
We have done 31 cases between us.
How often do members approach you for advice?
Between us we get approached on at least a daily basis.
Can you tell us about any particularly successful negotiations you been involved in with the employer?
Gary - A travel policy was written for the graduates. We contended that some of the changes put them in a position of personal monetary lose. I was part of the team that successfully negotiated the changes to the policy to increase the allowance the graduates received and implemented a plan to review this scheme within a year.
Patrick - We negotiated a pay rise to alleviate pension contribution increases.
What would you say to a colleague who is thinking about becoming a union rep?
Gary - It is the best way possible to ensure the working relations between employees and the employer are beneficial to both parties.
Catherine - It is a great support network. Not only do the union fight for your rights but they are there to assist in any cases which arise. I would always recommend it.
David - Give it a go, there is no obligation. You will only know if it's for you once you've given it a try. If you get pleasure from helping other and making a difference to yours and others working lives, it's definitely for you.
Patrick - Encourage them and tell them they will get good training and great satisfaction from the role.
What would you most like to change about employment law?
David - The law around flexible working and the rules. Employers shouldn't be allowed to object to flexible working. They should work with employees to do all they can to accommodate employees within reason.
Patrick – I would like to see employment tribunal fees abolished.
If you were writing your memoirs of being a Prospect rep what would it be called?
Gary - It's more than just the pay rise!
Catherine - Life inside Prospect
David - Making a Difference - the role of a union rep
Patrick - So many barriers