Linda Ford
James Hutton Institute

"How Prospect equality reps ended discrimination in the workplace"

What is your current union role?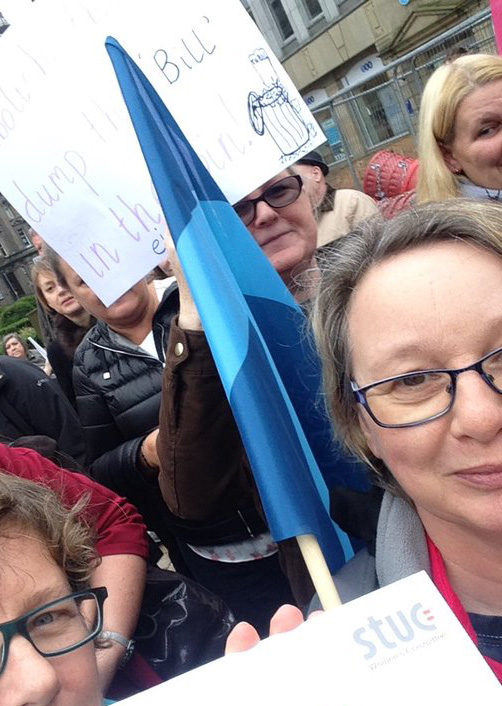 Like many reps, I have more than one role. I am the equality rep for Scottish Research Establishment branch which covers our sections in Aberdeen, Dundee, Edinburgh and Oban. I am also section secretary for Prospect's James Hutton Institute branch and sub-section secretary and equality rep for JHI's Dundee section.
What is your 'day job'
I am a glasshouse and field technician working in the agro-ecology group at James Hutton Institute in Dundee.
How long have you been in Prospect?
I joined Prospect about 10 years ago. I had never been in a union before and as part of the generation who watched the miners' strike in the mid 1980s, I thought that unions no longer had any power to make a difference in the workplace. I'm pleased to say that I was very wrong!
Why did you first become a rep?
I became a rep out of curiosity after the pension strikes three years ago as I wanted to know what my union did for its members. Due to confidentially, we don't hear about some of the hard work that our reps do, particularly in personal cases.
Soon after, I followed my heart and became an equality rep. We now produce a quarterly JHI section newsletter and run coffee mornings at both our sites so that our members get to see how hard all their reps are working for them.
What is the most recent personal case to come your way?
I don't deal directly with personal cases, but I may be approached for advice on equality issues from other reps dealing with cases from any of our sections. One of the most recent was around flexible working and BBSRC's policy on this, with regards to timing and appeals.
How often do members approach you for advice?
I haven't really thought about this before, but depending on what is happening it can be a couple of times a week to a couple of times a month. As section secretary for JHI, I'm sometimes the first contact for advice. If I don't know the answer, I can pass queries on to a rep(s) who has experience in a particular area.
Can you tell us about any particularly successful negotiations you have been involved in with the employer?
For me it was getting management to finally agree in principle, and to say they would be happy, to carry out equality impact assessments. Our JHI section equality rep and I have been working very hard to convince management that it would be in their best interests to do EIAs or equivalent documents. They resisted doing so, but we wouldn't give up, so this is a good result for us.
What would you say to a colleague who is thinking about becoming a union rep?
I've found that sometimes members are often not sure what they would do if they became a rep. I point out all the different roles that reps can take up and the many different areas, in which we negotiate and campaign, from a local level, through to national and international.
I suggest that they find an area that they are interested in or are passionate about and to look at what the union offers reps in those areas. Most people can usually find something they would like to get involved in and I've managed to recruit a couple of reps.
What would you most like to change about equality law?
Not equality law as such, although I'm not saying it is perfect. I would like to see the specific duties widened to include all employers and not just the public sector. I think that doing so would go a long way to eliminating discrimination in our all our workplaces.
If you were writing your memoirs of being a Prospect rep what would it be called?
Mmmm how about: "The importance of being a Prospect equality rep – how we brought an end to discrimination in the workplace." I'm very hopeful about the future.