Jenny Andrew
Natural Environment Research Council

"You'll never work alone"

What is your current union role?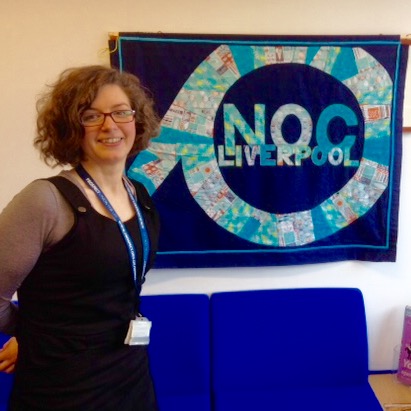 I'm a workplace rep, safety rep, and I represent my site on the Natural Environment Research Council branch committee.
What is your 'day' job?
I'm a data scientist with the National Oceanography Centre. We curate valuable marine environmental data for public use.
How long have you been in Prospect?
I joined ten years ago, as soon as I started work with my employer.
Why and when did you first become a rep?
They asked for a volunteer and everybody else took a step backwards! Seriously though, I think a healthy union culture is integral to every good workplace. I wanted to do my bit for a workforce that's been like a family to me.
Can you tell us about one (or more) of your most memorable personal case success?
The most exciting was coaching a group of young members to challenge their fixed term appointments. They made such a compelling case, they even got a pay rise thrown in with their permanent contracts. I believe the most important role of a rep is giving members the confidence and tools to fight their own battles.
What is the most recent personal case to come your way?
I've had a couple of recent ones, working with employees with disabilities and their line managers to understand their rights and responsibilities, and helping them to come up with the kind of reasonable adjustments that will allow them to fulfill their potential. Having members right through workplace hierarchies, Prospect is in a fantastic position to make union values systemic in those workplaces.
How many grievance and disciplinary cases have you dealt with in the last year?
Not one, so far, as we help members deal with most problems through informal means. I think that's due in equal measure to having a good employer who respects their specialist workforce, and to having a strong and organised union presence on site. I sometimes wonder whether employers fully realise the cost-saving and morale-boosting benefits to them of supporting union activity.
How often do members approach you for advice?
At least weekly, and often more like daily, but most of these problems can be quickly resolved. Occasionally I'll see two or three members in quick succession about very similar matters, prompting me either to send a briefing to all members, or to raise the problem with management.
Can you tell us about any particularly successful negotiations you have been involved in with the employer?
Last year we were involved with particularly constructive negotiations over a new Dignity at Work policy. We were able to highlight and preserve the best of the existing policy, and incorporate some of the latest guidance from Prospect and the TUC.
What would you say to a colleague who is thinking about becoming a union rep? And what key experiences have you enjoyed through being one?
You won't have to do it alone. I've been really moved by the support I've had from my members, from other reps, from Prospect officers, and from management. I've also learned more than I ever imagined I would: knowledge and skills that have benefited my day job as well as my role as a rep.
What would you most like to change about employment law?
Just now I wish I had more confidence in our 'native' employment law. So many of the rules that protect our members are based on EU law. I worry that withdrawal from the EU could leave UK employees very vulnerable to erosion of their employment rights.
If you were writing your memoirs of being a Prospect rep what would it be called?
You'll never work alone.