David Evans
BT

"The accidental activist"

What is your current union role?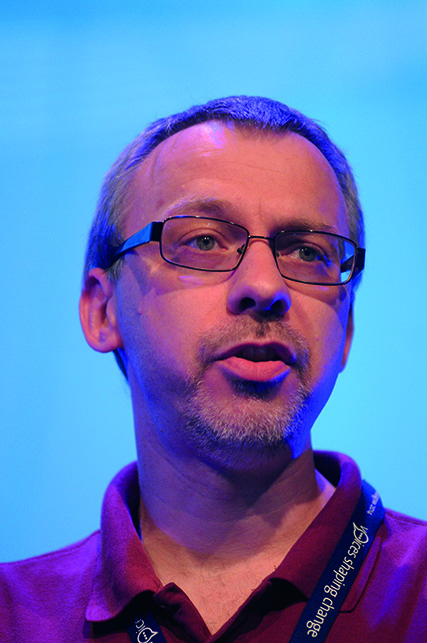 I have quite a list of job titles:
BT East Essex branch principal officer
Case handler
BT GS Industrial Relations Committee
CMD sector standing orders committee.
I have found that as I got involved, there were more and more jobs I would like to get involved with, and then you seem to collect union roles.
What is your 'day' job?
I manage a team of security professionals looking after BT Voice products.
How long have you been in Prospect?
I have been in Prospect since I was promoted to a management grade in 1994. So that is 21 years.
Why did you first become a rep?
I went to my first branch meeting in 1994, as I wanted to find out what the union did and how it worked. I walked out branch chair for what is now BT Suffolk branch. I was told it was either that or branch secretary…
Can you tell us about one (or more) of your most memorable personal case success?
My most 'famous' case was that of Graham Vare who took BT to an employment tribunal and won. I supported him right from his first formal performance interview, though a long period of stress-related sickness and his return to BT and his eventual dismissal and the ET.
I have also done a few unusual cases, the most notable being one that involved the discharge of an air pistol on BT premises!
What is the most recent personal case to come your way?
The most recent case was a surprise DN (Development Needed) – which won't be a big surprise for BT members.
How many grievance and disciplinary cases have you dealt with in the last year?
Not as many as you would think, probably three or four over the last year. Disciplinary cases are rare (for me at least), and grievances tend to be part of a larger case, generally involving mistakes in a BT process that has impacted a member – either performance management or my last one was around a promotion issue.
How often do members approach you for advice?
If you averaged it out then it tends to be one every couple of weeks or so. Obviously there are peaks around things like performance review time or if there is a strategic location move.
What would you say to a colleague who is thinking about becoming a union rep?
Absolutely do it. The union is built of the people in it, and grew out of a need to protect those people from being exploited. I often hear things like "the union hasn't done anything on such and such". Sorry, but you are the union. If you don't like it, get in there and help change it!
From a personal standpoint, case handling has been the most rewarding thing I have ever done, related to my working life.
What would you most like to change about employment law?
Oh that is a tough one! There are so many things that could make a difference to people. But I will plump for a legal set of standards about reasonable travel distance/time, which would be a great help. We have guidelines in BT about moving people's work locations. But managers seem to think that if they are willing to travel two hours to work, everyone else should. Other people don't even have that protection, so a legal framework would be an immense help.
If you were writing your memoirs of being a Prospect rep what would it be called?
The Accidental Activist!