Public servants are not just pen-pushers
Forget the stereotype of a pen-pushing bureaucrats. There are thousands of specialist public servants in roles that might surprise you.
Their work is often unrecognised and undervalued, but it plays a vital part in all our lives: helping to protect our health and safety; safeguarding the food we eat, the air we breathe and the water we drink.
I'm not a number
On 1 March 2011, Prospect launched a new campaign to bring home to opinion-formers the importance of professionals and specialists to government and the British economy.

Called 'I'm Not a Number', it kicked off in the House of Commons with a special presentation to MPs of all political parties by seven Prospect members:


They explained to MPs what their job entails, the skills they have acquired and the potential impact on their work of the government's programme to cut public spending.

MPs were invited to sign up to a Prospect pledge and an early day motion supporting the 'I'm not a number' campaign. Photographs and local press releases ensured the message and the MPs' support was fed back to media in their constituencies, generating positive publicity for members and the union.

You can view our Flickr photo gallery from the event and read our full news report.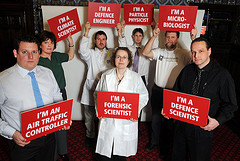 Parmjit Dhanda, parliamentary and campaigns officer for the union, said: "This was an excellent opportunity for Prospect members to get across the important work they do every day. They are not pen-pushers or numbers - they are real people who deserve the respect of our parliamentarians.
"The event highlighted the negative impact upon the public and private sectors of the government's plans to axe hundreds of thousands of jobs, and step up the pressure on ministers to think again."