Magazine
Our IT & Telecoms industry members now receive Stage, Screen & Radio, which is our BECTU sector magazine. From January 2017 this incorporates content that would previously have appeared in our DigitalEye newsletter.
Stage, Screen & Radio magazine
Now incorporates the Digital Eye content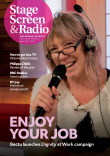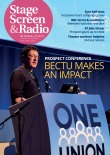 ---
The magazine for members in the Bectu sector of Prospect, including the BT and Digital divisions. Contents include: interview with Carolyn Spence, the new chair of Prospect's BT committee; our recent survey on pay of members in BT; BT locations secrecy untenable; change your mindset, not your handset; Union Week activities; tribute to Aveen McHugh; Bectu's new Dignity at work campaign; review of the year by Bectu head Philippa Childs
11 December 2019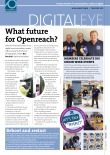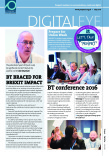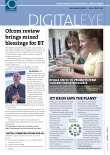 ---
This edition of DigitalEye features an interview with Gerry Morrissey, the current general secretary of Bectu, on the amalgamation of Prospect and Bectu, Roger Darlington's column looks at the the darker side of the Internet and Mary Hurley, full-time organiser, looks back on her career in the union movement.
16 November 2016