Public leaders – it's time to stand up for your staff
Prospect is asking members in public sector organisations covered by the Treasury/Cabinet Office pay remit guidance to send a postcard to their leaders asking them what they are prepared to do to ensure their staff are rewarded fairly.
In 2018, the union discovered that senior departmental leaders and permanent secretaries argued for lower pay increases for staff than the levels initially proposed by the Cabinet Office!
Many members saw this as a betrayal. Prospect believes senior leaders should champion the interests of their organisations and their staff.
We have already written to the permanent secretaries challenging them on their actions last year. We now need to ramp up the pressure.
Here's how you can get involved:
Step 1: Grab a postcard

There are a number of ways to get one:
ask your local rep
download and print your own
Want to go paperless? We have an email version you can use to send a digital postcard, which can be customised. Don't forget to add a graphic! (below)
Step 2: Sign, seal and deliver

Use your internal mail or add a stamp to the postcard, addressing it to your chief executive or permanent secretary. If you're using the email, you're all set; add their email address and hit send.
Step 3: Tell us if they respond
The postcards include a space for members to put their email addresses so that leaders can respond to them. We would be really grateful if you could forward any responses you receive to publicservices@prospect.org.uk.
Timescale
We would like to have a concentrated burst of activity around the postcard, so we're asking members to send postcards to their leaders asap.
Case studies
We need to tell your stories to politicians and the media – anonymously if necessary. Are you willing to share your stories about how pay restraint has affected you and your family? We can provide an income and expenditure checklist for those willing to share this information.
Campaign materials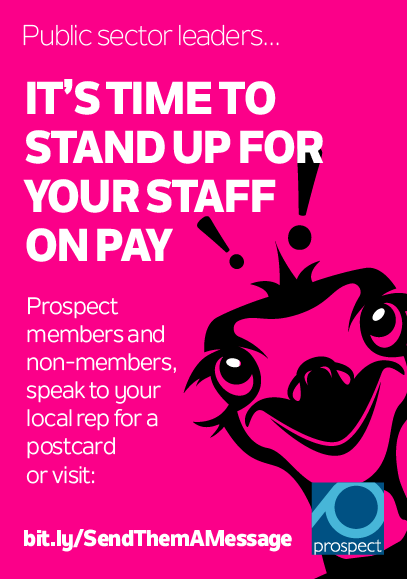 Share a banner or video via email or social media