Prospect – Isle of Man
Anyone can join Prospect whether you work in the voluntary, private or public sector, are on a permanent, temporary or casual contract or even if you are self employed.  You can join by contacting the Isle of Man Office on 625800 or by contacting prospect@manx.net  
Services listed on this website such as individual representation, discounts and legal services are available to ALL Prospect members on the Isle of Man.
Join Prospect
Isle of Man member benefits
Useful documents
Offshore news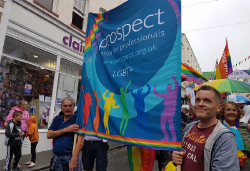 Prospect rep Martin Gavet was one of the founding members of equality charity Liberate, which organised the event. He describes here how much progress the island has made on LGBT issues in a short amount of time.